It's that time of year again and I can hardly believe how quickly it's come about. I think the older I get, the more each year rolls into the next. It got me thinking how important it is to slow down, take a moment, reflect and be mindful of each and every moment we've had, decision we've made and action we've taken...
So in that spirit, here is my gift to you...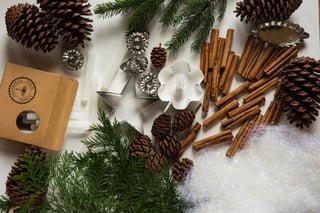 5 Things to Reflect on This Holiday Season as a Business Leader
1. Naughty or Nice? Who has benefited from your work? How have you positively impacted the lives of those around you... be they colleagues, clients, family or friends. And to whom do you potentially owe an apology to or are ready to make amends with?
2. What Are You Grateful For? Take stock of all that you've got. Your amazing team who support you in doing great work, your clients who enable you to showcase your strengths, your work that challenges you to face your fears and grow. There is such rich inspiration all around us to be grateful for, we just need to look out for it.
3. How Have You Given Back? We are faced with daily opportunities to offer a helping. Who have you reached your hand out to? Maybe someone who looks up to you as a mentor, a team member who's struggled with something that is second nature to you, a client that really needed your help to get out of a bind. You've been someone's Santa I'm sure of it... seek those moments out and relish the feeling!
4. Setting the Best New Year's Resolution Yet! I make myself laugh when it comes to new year resolutions. I set them with such gusto and determination... "This WILL happen" I say to myself... and to be fair, some do. I'm just not sure why we have to wait till new years' eve to commit to the things we need to do?! What one thing will make the biggest difference to you next year. Go with that!
5. Same time next year! How will you build upon the great work you've done this year? Which challenge will you address and which opportunity will you pounce on? Who will you bring with you and who do you need to let go? Take the learnings from this year and reach new highs so that when you review this list this time next year, there is even more to celebrate!
Want to know more about us and what we do, sign up for a free consultation or just visit our What We Do page.
Have an absolutely amazing holiday season, rest, recap and revive.
Sincerely,
Marianna